March 27, 2023
The Many Benefits of Our Handmade Laundry Detergent Powder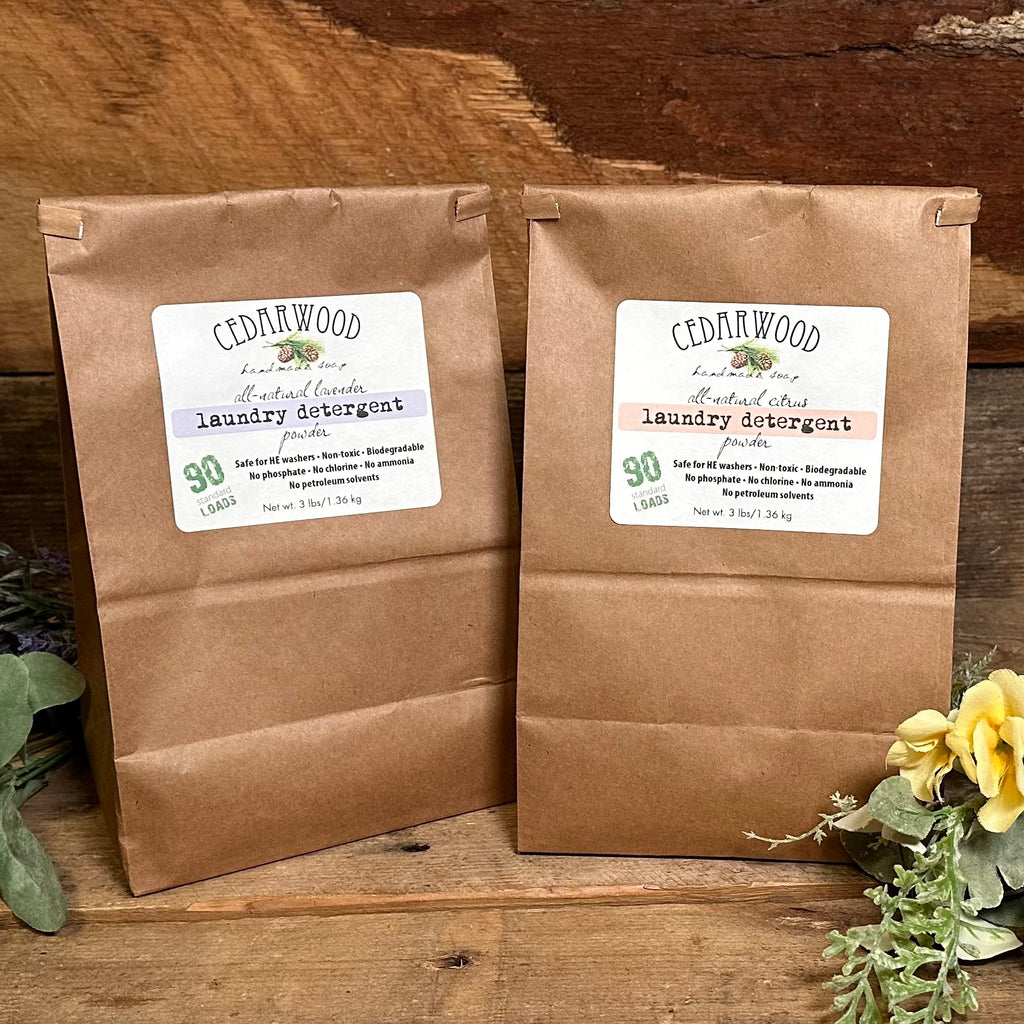 Many of you may not know the story behind our all-natural laundry detergent powder so I thought I'd share that AND tell you why you should consider switching from the commercially-produced stuff.
When our son and daughter were young I was always looking for ways to save money (aren't we all?) AND I love making things I don't need to or want to buy. So I learned how to make homemade laundry powder.
Fast-forward MANY years, our kids are in their 20s and I now have my own soap business. One day I was making more laundry powder for myself and was about the grate the store-bought soap I used to make it (OH THE IRONY). And I had the obvious epiphany. I could use my OWN soap to make it and, oh wait, MAYBE I could make enough and add it to my product line and MAYBE people would want to buy it. I started using our Orange Marigold soap for a citrus-scented laundry powder and, lo and behold, it has become one of the most popular items I sell.
(Below are pics of the orange marigold and lavender sage soap I have grated in my food processor. I let it dry out for several days on baking sheets and process this into very fine pieces.)
Commercially-produced laundry detergent contains harsh chemicals and additives, artificial fragrances, sudsing agents and, sometimes, bleach. Many people are sensitive to these additives and have reactions when they wear clothes washed with store-bought detergents.
Our laundry powder (available in citrus and lavender scents) is made with five (yes, FIVE!) ingredients - Borax (sodium borate), washing soda (sodium carbonate), baking soda (sodium bicarbonate), our own all-natural soap (orange marigold or lavender sage) and orange or lavender essential oils.
I have had MANY wonderful compliments about our laundry powder and it was actually a customer who requested that I make the lavender version.
One customer wrote, "I have been using this laundry soap for about 9 months and I really like it. It leaves my clothes clean and no more itching that would happen with commercial laundry soap. If you are sensitive to laundry soaps you should try this."
Ashley writes, "I have 3 children, all with eczema, but my youngest's eczema is severe. I came across this laundry detergent at a festival and went home to research every ingredient before purchasing, which I must also add is a very impressive SHORT list so it didn't take me long. I also compared this soap to my current soap that costs my family, after shipping and tax, $40 a bag!! We washed and tested a couple pieces of clothing with ZERO reactions! The citrus smell is very light and refreshing but doesn't linger on your clothing which I love! I will be a customer for life, and I am excited to try more products! Kid tested, Mother and Eczema approved!"
One MORE added benefit is, when the detergent is gone, you can recycle the bag! NO giant plastic jug or bottle to throw away! And one bag does approx. 90 loads (!).
We now offer 2 oz resealable sample bags which is enough to wash 2-4 loads of laundry so you can give it a test drive and see which scent you like. 
Our laundry powder is available at two of our retail locations - The Market Hub, 14113 Pennsylvania Ave. and Repurposed & Refined, 13018 Pennsylvania Ave. (both in Hagerstown). As always, it is also available on our website and you can also sign up for the subscription option. You'll save money and it will be delivered to you automatically (either monthly or bi-monthly)
Subscribe to my blog's RSS feed using https://cedarwoodsoap.com/blogs/soap-shavings.atom
(Disclaimer: Regulations set forth by the FDA prohibit bath and body companies from making health-related claims about beauty products. I am not a medical or healthcare professional and do not claim that the use of my products may have a positive effect on pre-existing physical and/or mental health conditions. The information in my listings pertains to the properties of specific ingredients used in the product.)