February 20, 2019
The Many Benefits of Beeswax Lotion Bars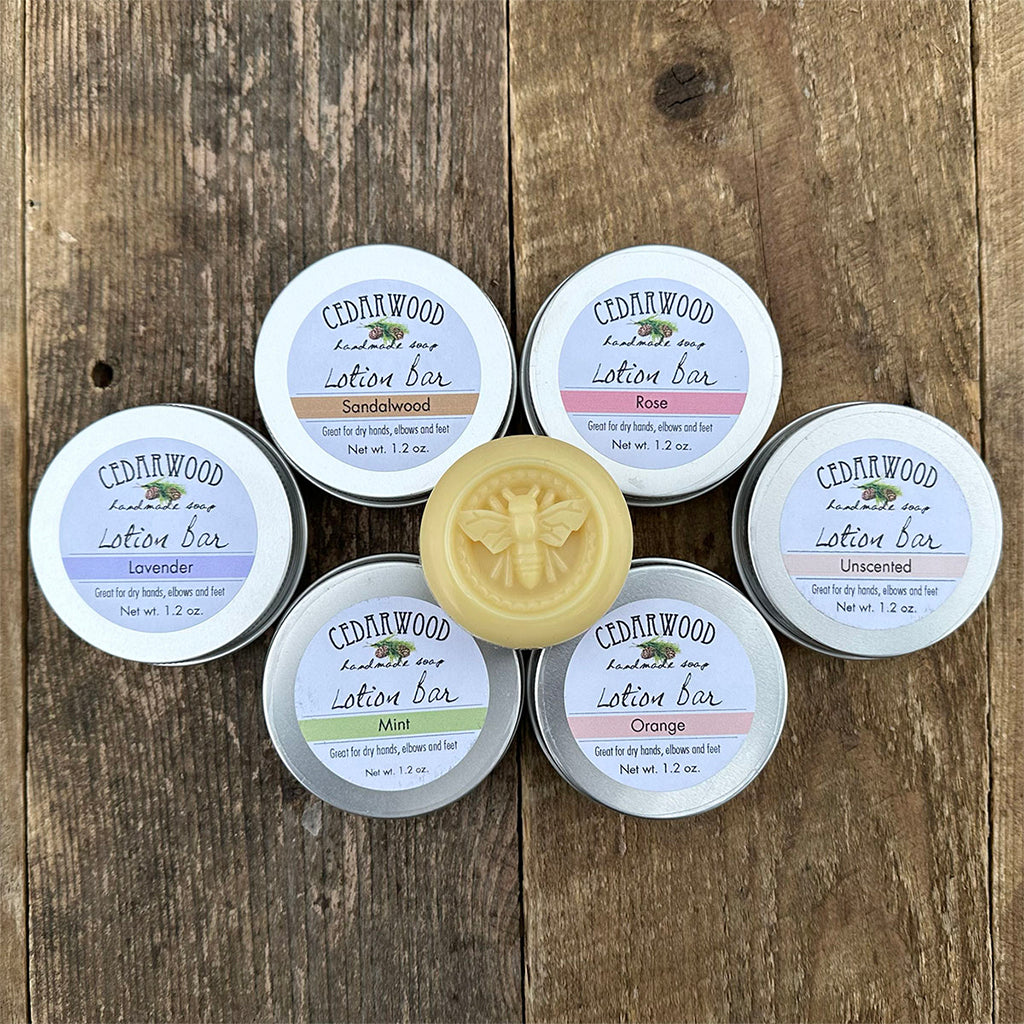 When I was first asked, back in November, if I sold lotion bars I said, "lotion what?" I had never even heard of a lotion bar. Was it a type of soap that moisturizes your skin. But, being the curious person that I am, I went home that night and did some research. And, sure enough, there they were - beeswax lotion bars - made with just four ingredients; beeswax, coconut oil, Shea butter (or any another butter like cocoa butter) and essential oils. AND they were just so adorable in the little bee mold! On top of that, it almost seemed like it was meant to 'bee' because at the Kris Kringle Holiday show (where I was asked about these) the vendor right beside us just happened to be a beekeeper! I knew these lotion bars would be a perfect addition to my product line so I formulated a recipe, ordered the tins and molds, designed the labels and made my first batch of lavender lotion bars.
There really are some amazing things going on with just those four simple ingredients though! So let's take a closer look.
Shea butter
is anti-inflammatory;

has been shown to boost collagen production;

and is rich in vitamins A & E which are both moisturizing anti-oxidants.
Coconut oil 
has anti-fungal, anti-bacterial and anti-microbial properties;

is naturally moisturizing;

has been shown to reduce the appearance of stretch marks.
Beeswax
contains natural moisturizers that lock in moisture provided by the butters and oils;

 

has non-allergenic properties;

 

has slight anti-inflammatory and anti-oxidant properties;

 

contains vitamin A to provide long-term moisturizing;

 

provides all-natural moisturizing unlike artificial, petroleum-based chemicals added to commercial products

 
Essential oils
I'll just highlight two benefits of each of the essential oils we use:
Geranium - has been shown to reduce the appearance of wrinkles and soothe sore muscles;

Lavender - calming, anti-bacterial;

Orange - calming, anti-inflammatory;

Peppermint - has been shown to reduce muscle pain and provide itch relief;

Rose - calming, has been shown to reduce the appearance of blemishes.
And on top of all of these wonderful benefits, our lotion bars are also paraben-free. What is paraben you ask? Parabens are added to commercially-sold products like lotions and lipsticks to prevent bacteria growth. However, they are also xenoestrogens which mimic estrogen in the body and have been shown to have long-term health implications.
They come in a convenient tin, stay solid at room temperature and are softened by the heat of your skin. Rub them on any dry patches and see the wonderful, soothing results for yourself. I don't know what more to say other than you need to try them for yourself. I even made some unscented ones for my husband and he couldn't believe how they got rid of all of the dry patches on his arms that regular lotions couldn't fix! So, if you want to try these for yourself, head on over to cedarwoodsoap.com/products/lotion-bars and buy some today!

(Disclaimer: Regulations set forth by the FDA prohibit bath and body companies from making health-related claims about beauty products. I am not a medical or healthcare professional and do not claim that the use of my products may have a positive effect on pre-existing physical and/or mental health conditions. The information in my listings pertains to the properties of specific ingredients used in the product.)