February 08, 2022
The Many Benefits of our Bergamot Hemp Body Butter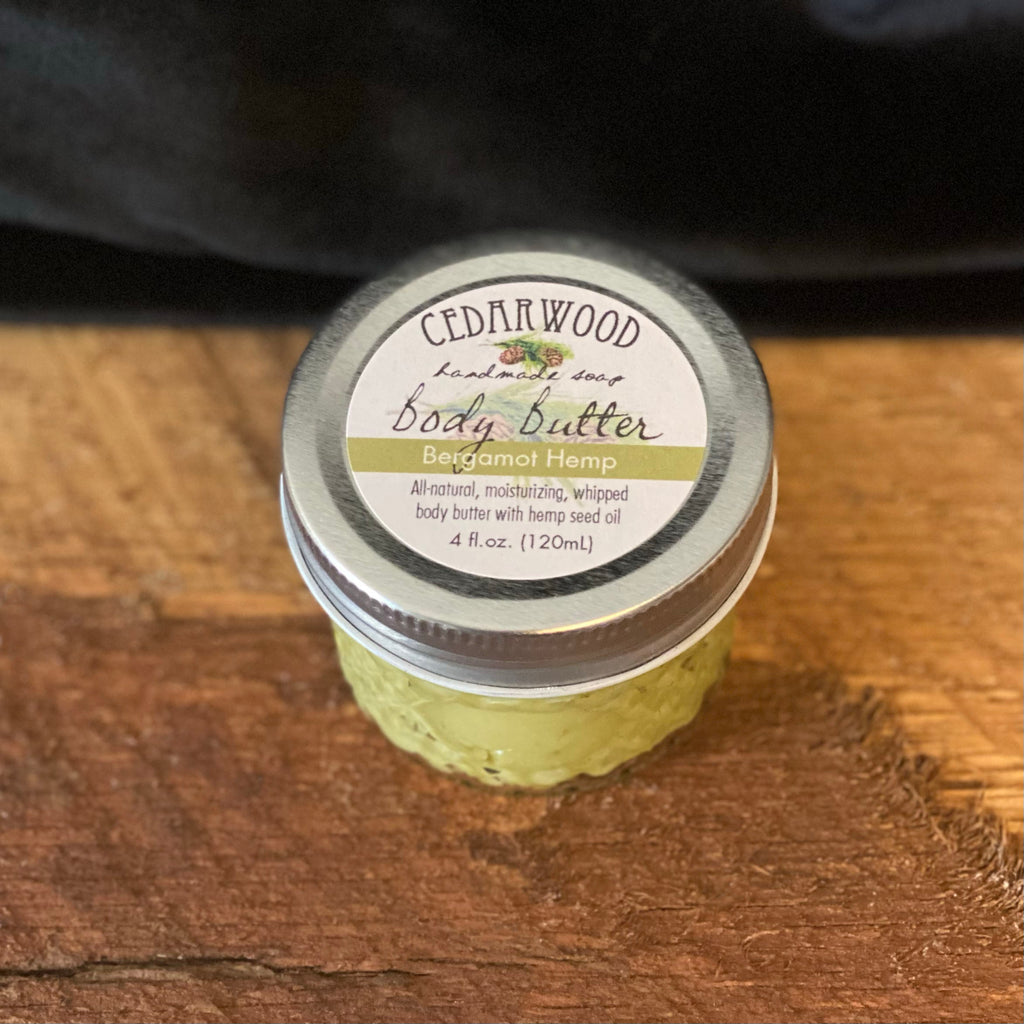 Winter temps and cold air can lead to seriously dry skin. I know I have that problem, especially because I feel like I wash my hands dozens of times during the day. Yesterday I made a brand new product that I can tell you, personally, is really helping with my dry winter skin.
This brand new product is our handmade, all-natural Bergamot Hemp body butter!
It is made with some of my go-to ingredients which are moisturizing, nourishing and all-natural. I'm talking about refined shea butter, refined organic coconut oil, sweet almond oil, and organic hemp seed oil. This body butter is rich, creamy and luscious! But let's talk about the benefits of each of these butters and oils.
Shea butter is moisturizing and rich in vitamin A and E which are essential for healthy skin. Coconut oil hydrates your skin and is rich in antioxidants. Moisturizing sweet almond oil contains more vitamin A and E as well as essential fatty acids, proteins, potassium and zinc (which is essential for skin health). And, last but not least, organic hemp seed oil (which is where the body butter gets its amazing color!) Hemp seed oil is rich in essential omega-3 and omega-6 fatty acids, vitamins and minerals. It is a light, thin oil that also helps balance oily skin, won't clog your pores and will keep your skin feeling soft all day! And let's not forgot the locally-sourced beeswax which helps to lock in all of those wonderful oils.
As much as this body butter will leave your skin feeling so soft and moisturized, I can't overlook the way it smells! It gets its warm, woodsy, spicy-floral scent from a soothing blend of bergamot and cedarwood essential oils with a touch of ginger and nutmeg.
Our Bergamot Bay body butter is whipped which makes it light and airy AND a little goes a long way. I have even found that after I wash my hands (with some of my Cedarwood Soap of course) they still feel soft and not dried out. Of course that is from the combination of the body butter and the fact that all of our all-natural soaps contain natural glycerine so your skin won't feel dried out like after you use store-bought soaps.
But don't take my word for it. Experience our Bergamot Hemp body butter for yourself. Click here to get yours.
Subscribe to my blog's RSS feed using https://cedarwoodsoap.com/blogs/soap-shavings.atom
(Disclaimer: Regulations set forth by the FDA prohibit bath and body companies from making health-related claims about beauty products. I am not a medical or healthcare professional and do not claim that the use of my products may have a positive effect on pre-existing physical and/or mental health conditions. The information in my listings pertains to the properties of specific ingredients used in the product.)