December 21, 2021
12 Days of Christmas | 12 Special Offers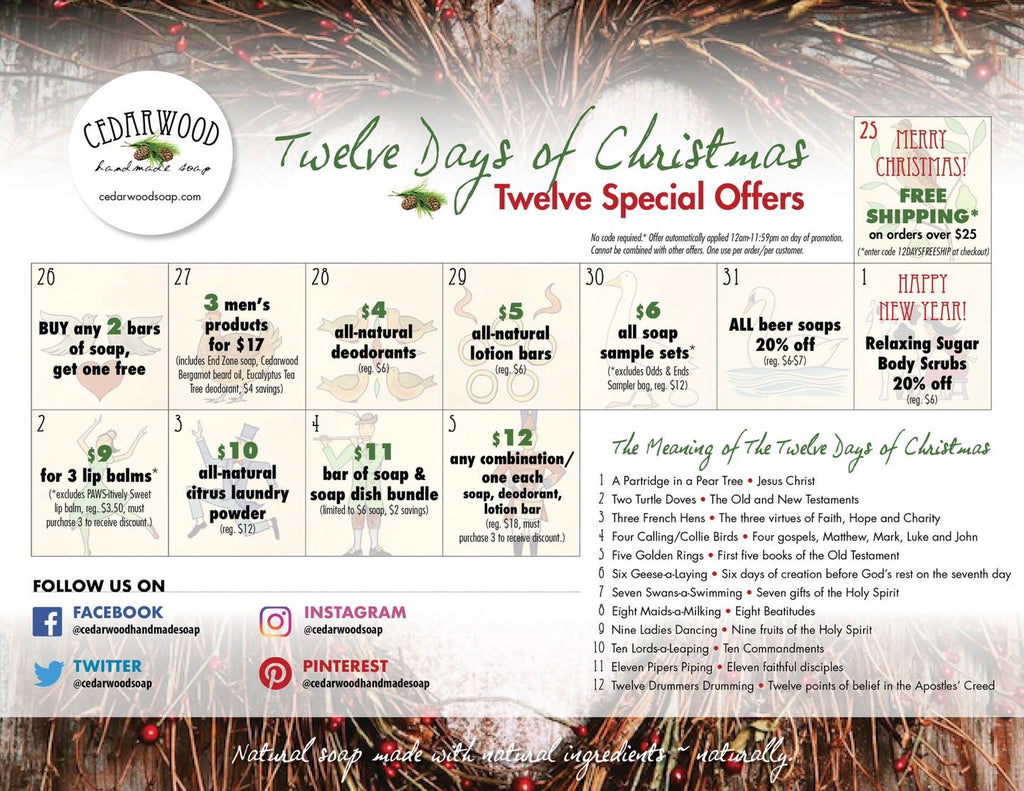 I'm doing something BRAND NEW this year - a 12 Days of Christmas sale.
I had so much fun coming up with the sales that play off of each day! I hope you'll find one or several of our all-natural bath and body products that you want to try. (See the flier below for the daily offers.) My inventory IS getting thin so things might sell out fast. You'll also see daily posts on
Facebook
 and
Instagram
that pertain to that day's special offer.

Until I decided to do a 12 Days of Christmas sale I'm embarrassed to admit that I assumed those twelve days were celebrated leading UP TO Christmas. However, I learned that, unlike Advent which is observed on the four Sundays leading up to Christmas, the twelve days of Christmas BEGIN with the birth of Christ. Here is the meaning and symbolism of each of the twelve days.
A Partridge in a Pear Tree - Jesus Christ
Two Turtle Doves - The Old and New Testaments
Three French Hens - The three virtues of Faith, Hope and Charity
Four Calling/Collie Birds - Four gospels, Matthew, Mark, Luke and John
Five Golden Rings - First five books of the Old Testament
Six Geese-a-Laying - Six days of creation before God's rest on the seventh day
Seven Swans-a-Swimming - Seven gifts of the Holy Spirit
Eight Maids-a-Milking - Eight Beatitudes
Nine Ladies Dancing - Nine fruits of the Holy Spirit
Ten Lords-a-Leaping - Ten Commandments
Eleven Pipers Piping - Eleven faithful disciples
Twelve Drummers Drumming -Twelve points of belief in the Apostles' Creed
The most important thing is to always remember the TRUE meaning of these twelve days and remember the importance of the birth of Christ, not only at Christmas, but throughout the entire year!
Merry Christmas from our family to yours!


(Each offer will be automatically applied at checkout (no code required*) and will be active 12am-11:59pm EST on the promotion.) *Free shipping offer enter 12DAYSFREESHIP at checkout.